In over 15 years of working as a Naturopathic Physician, I have seen many patients with obsessive-compulsive disorder (OCD) or OCD traits. I can tell you that holistic treatment for OCD works extremely well. What is OCD? And what types of natural remedies for OCD are effective? The Walsh Protocol is highly effective. But before I get into that, let us explore what OCD is.
What is OCD?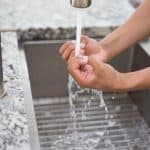 OCD is a pattern of unwanted thoughts and obsessions leading to repetitive behaviors (compulsions). These compulsions and thoughts interfere with daily activities. In extreme cases, very dark thoughts accompany the behaviors. Regardless, the person suffers extreme distress and anxiety. (OCD is a subset of anxiety.)
One can try to stop the obsessions or compulsions but that often serves to increase the distress and anxiety. Performing the acts is an attempt to relieve the stress. The thoughts come back even when ignored, leading to more ritualistic behavior and the cycle of OCD.
Often, OCD revolved around a theme, such as a fear of germ contamination. To ease the fear, the compulsion starts. In this example, compulsive hand washing is even to the point of sore or chapped hands.
If you have OCD, holistic treatment for the condition exists. Before we explore treatments, I want to discuss the symptoms in more detail.
Symptoms of OCD
Obsessive-compulsive disorder usually includes both obsessions and compulsions. But it is also possible to have one without the other. Some people cannot see that their obsessions or compulsions are excessive. What is excessive? Anything that interferes with your daily routine, social, academic, or work functioning. It is important to distinguish OCD from perfectionism. Perfectionism is the desire for something to be flawless. Recently, I had my car detailed. My friend joked about the detailed that it's a good way to channel his OCD. And while he worked really hard to make my car perfect while spending hours cleaning it, he didn't obsess about the things who couldn't get perfect. He just moved on. Thoughts about actual problems in your life, or liking things arranged particularly, are not necessarily OCD thoughts. It's when these actions and thoughts interfere with your life that it is a problem. Let's dive into the difference between obsessions and compulsions.
Obsession symptoms
OCD obsessions appear as recurring thoughts, urges, or images that cause distress. One may try to ignore them or use a ritual to remove them. Typically, these obsessions intrude when attempting to do something else.
Some examples of obsessive themes include:
Fear of contamination or dirt
Uncertainty intolerance
Needing things orderly and symmetrical
Aggressive or horrific thoughts about losing control and harming yourself or others
Unwanted thoughts, including aggression, or sexual or religious subjects
Needing to perform a task to prevent something bad from happening.
Examples of obsession signs and symptoms include:
Doubting if they locked the door or turned off the stove
Intense stress when objects aren't orderly or facing a certain way
Images of driving your car into a crowd of people
Thoughts about shouting obscenities or acting inappropriately in public
Unpleasant sexual images
Avoidance of situations that can trigger obsessions, such as shaking hands
Compulsion symptoms
OCD compulsions are repetitive behaviors one feels driven to perform to reduce anxiety. Engaging in compulsions brings temporary relief but rarely pleasure. One invents the rituals or rules to control anxiety, but is rarely realistic or related to the problem.
Compulsions typically have themes such as:
Washing and cleaning even until the skin becomes raw.
Repeatedly checking locks and that the stove is turned off.
Counting in specific patterns
Orderliness
Following a strict routine
Demanding reassurance
Severity varies
OCD usually begins in the teen or young adult years, though signs of it appear in childhood. A gradual increase of symptoms occurs as people age, and sometimes the obsessions and compulsions change. Symptoms worsen with increased stress and can be disabling.
Holistic Treatment for OCD
Now that we have explored what OCD is, how is it treated? When I think holistically, I consider various approaches to treat the condition, not just medication. Many people find benefit from a mix of psychotherapy, the Walsh Protocol, neurofeedback, and/or Naturopathic care. Let's explore each of these.
Psychotherapy for OCD
Cognitive-behavioral therapy (CBT) is effective for many people with OCD. One type is called exposure and response prevention (ERP). In ERP therapy, you gradually face fears and learn to resist rituals. ERP takes effort and practice, but improves one's life quality if effective.
Neurofeedback for OCD
Neurofeedback shows great promise to treat OCD. Many patients report having less severe symptoms following neurofeedback sessions. During neurofeedback, we first map the brain by placing sensors on the scalp. The map directs treatment of OCD by showing which areas of the brain may be most affected. Depending upon the type of neurofeedback system and severity of symptoms, most practitioners treat 1-3 times per week. I like to start with weekly sessions to better monitor how the treatment takes.
Walsh Protocol for OCD
The Walsh Protocol is a highly effective holistic treatment for OCD. When I first started using the Walsh Protocol, we thought OCD was strictly a methylation issue. It turns out that OCD may also have an element related to NMDA receptors too. The beauty of the approach is that knowing the biosubtype allows us to determine the treatment plan for the NMDA receptor, too. Patients with OCD typically have issues with memory extinction. By affecting the NMDA receptor, supplements can help ease symptoms. Many patients report having fewer disturbing thoughts or compulsions.
Naturopathic Treatments for OCD
OCD and other mental illness may be related to high levels of inflammation in the body. Natural treatments like bio-therapeutic drainage, supplements, gut balancing, and hydrotherapy can reduce inflammation and lower oxidative stress in the body. While these treatments do not always immediately resolve the problem, they do improve overall health. One aspect of OCD that I am integrating into my practice is looking at trauma. Trauma affects many areas of the body but particularly the mitochondria. Changes in the mitochondria cause a myriad of downstream effects on glial cells (the helpers of neurons), methylation, oxidative stress, and so forth. In fact, mitochondria may be an important  aspect of all health problems. This approach can help can not only help OCD but likely prevent other conditions too.
How to Get Holistic Treatment for OCD
Curious to get treatment for OCD. Contact me today to schedule an appointment. I'm excited to share what I have learned and help you or your loved one struggling with OCD.