"My breathing is messed up." This is what a patient said to me the other day. "My yoga instructors, sleep doctor, and everyone else says that." She had trouble breathing in and out in a regular pattern. It wasn't synchronized properly with her heart beat and HRV. Heart rate variability (HRV) is a measure of the change in heart rate at different times. HRV is becoming the most direct measurement of total health. It reflects emotional well-being and our ability to handle stress. In this article, I want to explore HRV, what it is, and how it is an important measure of health. It is a great measure of the health of the Autonomic Nervous System (ANS). This gives us a clue into our ability to deal with stress and our mental emotional health. Finally, I want to discuss how I use biofeedback training to help people improve HRV and their overall health.
Heart rate variability (HRV) is the beat-to-beat change in the speed of our heart. It mirrors our emotional health through the ANS. Before we delve into heart rate variability, let's discuss what the ANS is and why it is so important. The ANS has two main branches. The sympathetic nervous system is the branch of the ANS that controls fight or flight. Think of this as the gas pedal in your car. It will speed up your heart rate. The parasympathetic nervous system is the brake. It helps you to rest and digest. It will slow down your heart rate. If you are hunting, the sympathetic nervous system allows you to be alert and stay focused. But you want to turn that off when you are eating so that the nutrients can be absorbed. The parasympathetic nervous system helps you do that and also sleep, so you are ready to go again the next day. (See the chart below.)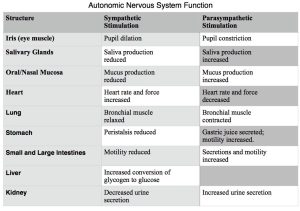 Most Americans are too revved up. There is too much gas or sympathetic nervous system. It is part of the reason that we have trouble sleeping and have difficulty dealing with stress. It also explains in part the high amounts of nutrient deficiencies. People don't have enough of the digestive systems turned on to properly absorb nutrients.
Heart Rate Variability Reflects Our Total Health
Heart rate variability reflects the balance between the sympathetic and parasympathetic nervous system. HRV reflects our ability to adapt and respond to stress. Too little HRV means we have difficulty adapting to situations while too much means we are too reactive. HRV research suggests that it can be an indicator of aging. People with too little HRV tend to be closer to dying than people with a greater amount. There is also evidence that Post-Traumatic Stress Disorder may be due to low HRV. The reasons for this aren't clear but may be due to the balance between the ANS branches.
Our emotional state impacts HRV. HRV patterns change with different emotions. Positive emotions show a smooth sine wave-like pattern in changes in heart rate. Stress or frustration shows a more choppy pattern. We can use this information to balance our ANS. HeartMath is a system I use to measure HRV. It is a biofeedback tool that allows one to learn to increase HRV and learn to have a more coherent state. What is coherence? Coherence is a measurement of the synchronicity between physiologic systems in the body. As a simple example, someone who scowls at you and says they are happy to see you is incoherent. There isn't consistency between the physical expression and their stated emotion. Our body likes to have consistency between emotion and physiology. Heart and pulse monitoring is one way we can measure coherence. The HeartMath system has a scoring system that allows the user to know how they are doing. Emotions play a big part in this, and by creating feelings of appreciation or gratitude, our coherence increases. Much evidence supports that feelings of gratitude are crucial as part of the healing process.
How Biofeedback Training can Improve Heart Rate Variability
Breathing is an important aspect of this, and the comment my patient made reminded me of this. When we inhale, we increase the sympathetic activity in the body. When we exhale, we increase parasympathetic activity. If we are trying to relax, we could exhale for longer than we inhale. My patient did the opposite before we started working on the issue.
It is important to note that coherence and relaxation are not the same thing. Coherence reflects changes in heart-rate, pulse, breathing, and emotion that are synchronized. Relaxation just reflects a change in the heart-rate pattern. It tends to be smoother. Coherence is smooth and has wide variation. Relaxation is only a parasympathetic event. Coherence is a balance between parasympathetic and sympathetic activity. This is important because if you work in a field where you are active, relaxing isn't helpful. Athletes use HeartMath to find balance in action. They must be able to respond. In a relaxed state, you don't respond promptly. But if you are stressed, you can't react either. You tighten up. Coherence allows for choice.
The HeartMath system is an excellent tool to help people find balance. Using a computer, the HeartMath system allows people to see changes in their breathing. The computer system displays the changes on the screen. It can even show how changes in emotional state change heart patterns. One can learn the subtle changes in emotion that affect physiology. For many people, this can be life changing. They can start to see how changing their thinking and emotions changes their physiology.
I have used Neurofeedback in my practice for many years. I have waited a long time to add a new tool. HeartMath is the tool I have chosen because it offers my patients an alternative to direct brain training. It works on the heart and the brain at the same time.
If you are interested in learning more about how to improve your health and quality of life, schedule an appointment today.